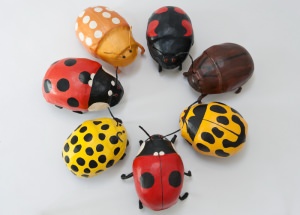 These are a set of seven smaller wearable-on-the-head models which were made to show the diversity within one family of insect.
There are over 40 species of ladybird native to the UK but so far I have stopped at seven.
When the ladybirds are hired out, a "master interview" is provided which entails the teacher/groupleader interviewing each of the seven ladybirds in turn.
The package also includes:
Factsheets and real life photos for each individual species
A set of ladybird clues to be used as a quiz
Resources to run a ladybird "Find the Spots" hunt
The Spot Hunt
This consists of
Pairs of 9 species of handpainted wooden ladybirds-on-sticks to be "planted" in an outdoor area.
A set of laminated ladybird ID charts
A photocopiable "Find the Spots" sheet
Participants hunt for and discover the ladybirds, identify them using the ID chart and record the number of spots, totalling them at the end.
There are also ten reasons to love your nettles – nettle aphids being an important source of food for ladybirds in early spring – and ideas for how to make a ladybird happy.
For more information about ladybirds (or any other insects) and a wealth of excellent downloadable resources about how to attract beneficial insects, how to provide them a safe haven and loads more, visit www.buglife.org.uk. Buglife is the Invertebrate Conservation Trust.