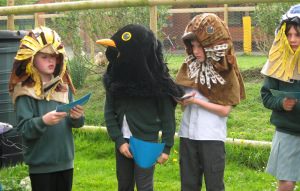 Hawthorn Wildlife Web Award built on former successful "Beetles and Bees" projects in schools.
A Wildlife Web Award is awarded to the Hawthorn. During the role-play Award ceremony we hear from members of the wildlife community who have voted for Hawthorn and why they have done so.
The project was delivered in 8 Shropshire primary schools in 2014, part funded by Shropshire Hills AONB Partnership Sustainable Development Fund, with excellent feedback. In 2015 and 2106 it has been more widely travelled and made an appearance at the National Sustainable Schools Conference in Bristol in 2015 and in Leicester in 2016, as well as days out for Wildlife Trusts in Gwent, Herefordshire, Somerset, Ceredigion and the Bug Farm and Farms for City Children in Pembrokeshire.
A collection of headgear/handpuppets were handmade to represent a wildlife web based around a Hawthorn tree, to include insects (some of which are pollinators), birds and small mammals.
So far the following species are featured: Lappet moth caterpillar; Hawthorn shieldbug; Seven spot ladybird (with larva); Violet Ground Beetle; Honeybee; Buff tailed Bumblebee; Yellowhammer; Blackbird; Thrush; Bluetit; Fox; Hedgehog; Woodmouse; Local farmer.
The children get to know the creatures through the use of factsheets and interviews, followed by a scripted role play.
There is an option for schools to keep the resources for a week to enable them to make fuller use of them throughout the school and present role plays for younger children
Scripts are designed to contain a wealth of factual information and there are plenty of KS2 curriculum links for science (foodchains, lifecycles, habitats) and literacy (speaking and listening, roleplay, factual and creative writing).
See "The Gallery" for more photos of the project in operation and photos
MEET THE HEDGE is an attraction to involve the whole family and in 2016 has made appearances at Wildlife Trust events in Herefordshire, Gwent, Pembrokeshire and Somerset, as well as Ludlow Green Fair and The Bug Farm in St David's.