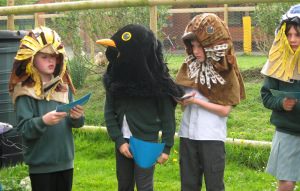 A Wildlife Web Award is awarded to the Hawthorn for its services to wildlife. During the role-play Award ceremony we hear from members of the wildlife community who have voted for Hawthorn and why they have done so.
Since its launch in primary schools in 2014, part funded by the Shropshire Hills AONB Partnership Fund, the Hawthorn Hedge menagerie has been widely travelled and made appearances at two National Sustainable Schools Conferences, at days out for Wildlife Trusts and Fairs in Shropshire, Gwent, Herefordshire, Somerset, Ceredigion, at the Bug Farm and Farm for City Children in Pembrokeshire, at Compton Verney summer festival and at Anglesey Woodland festival.
The Hawthorn menagerie , complete with playscript and interview scripts, is still available for outings in 2021.
Please get in touch to discuss if you are interested.
See "The Gallery" for more photos of the project in operation and photos
MEET THE HEDGE is an attraction to involve the whole family and has made appearances at Open Days, Festivals and Wildlife Trust events in Shropshire, Herefordshire, Gwent, Ceredigion, Pembrokeshire and Somerset.